Laura Gröndahl will design fabrics for Tampere Tramway
Laura Gröndahl will design fabrics for Tampere Tramway
Designer (UAS) Laura Gröndahl has been selected to design fabrics for Tampere Tramway. The designer was chosen on the basis of jury votes and public votes submitted online during Tampere Tramway's Maketti display.Helena Hyvönen was the public's favourite, and she also received a prize. Public votes counted for 20% in the selection process. 
The search for Tampere Tramway's fabric designer began with an open portfolio application in autumn 2018. Based on that process, the 8-member project jury selected three designers who advanced to the next phase: Professor Emerita Helena Hyvönen, Designer (UAS) Laura Gröndahl and Artist Pasi Niininen.
– It feels great to be recognised for my work as a designer and have my fabric become part of such a large and long-term project. It's an honour to be chosen from this highly professional group. My background is in fashion, so it will be an interesting challenge to create a fabric that stands the test of time and becomes part of the daily life of so many different people. In the future, I hope to design fabrics in a wide variety of different projects and this win is a great start to that dream, says a delighted Laura Gröndahl.
Under the guidance of the jury, the designers began working on different fabrics for the tramway in mid-October. Eventually they each chose two fabric designs for the designer voting process, which was open to the public from 21–26 February. Members of the jury awarded their votes after getting acquainted with the designers and their expertise as well as the materials and work samples that they delivered during the selection process.
– The selection process was interesting, but challenging. Laura Gröndahl's unique, fresh and future-oriented style was the deciding factor for the jury. We believe that the collaboration between Laura and Tampere Tramway Ltd will produced a stylish and modern fabric that's perfect for Tampere's tramline system," says Tampere Art Museum Director Taina Myllyharju, who chaired the jury.
– The jury represented a diverse range of competence and went through a long selection process with the candidates, with the aim of finding a balance between the fabric and tram car design. The manufacturability of the fabric and realisation of the tram car's technical requirements were confirmed at the same time. The jury votes carried a weight of 80% in the selection process. However, public opinion was also very important to us, so we assigned it a higher value than any individual jury member. Gröndahl was the overall winner after the jury votes and public votes were added together," explains Head of Rolling Stock Ali Huttunen from Tampere Tramway Ltd.
The public voted on the basis of the fabric proposals submitted by the designers. Nearly 10,000 votes were received during the public voting process.
– Helena Hyvönen was the public's favourite in a close competition that saw her receive 36% of the public votes. She will receive a 500-euro gift certificate to businesses on the tramway streets, says Huttunen.
– I'm so happy that the public liked my fabric proposals! When I was designing the fabrics, I focused on finding ideas that would make tram users happy. I have to say that I'm very proud to be the public's favourite, says Helena Hyvönen.
– I went to the Maketti display in Tampere, where I was able to experience the joy and enthusiasm that visitors feel about the new Tramway project. It was wonderful to be part of the project until now and I will be sad to leave it behind. I'd like to warmly congratulate Laura Gröndahl, and I wish her success with further development of the tramway fabric, continues Hyvönen.
Design of the final fabric for the tramway will continue as cooperation between Laura Gröndahl and Tampere Tramway Ltd. The fabric will be in the tram cars when Tampere Tramway begins traffic operations.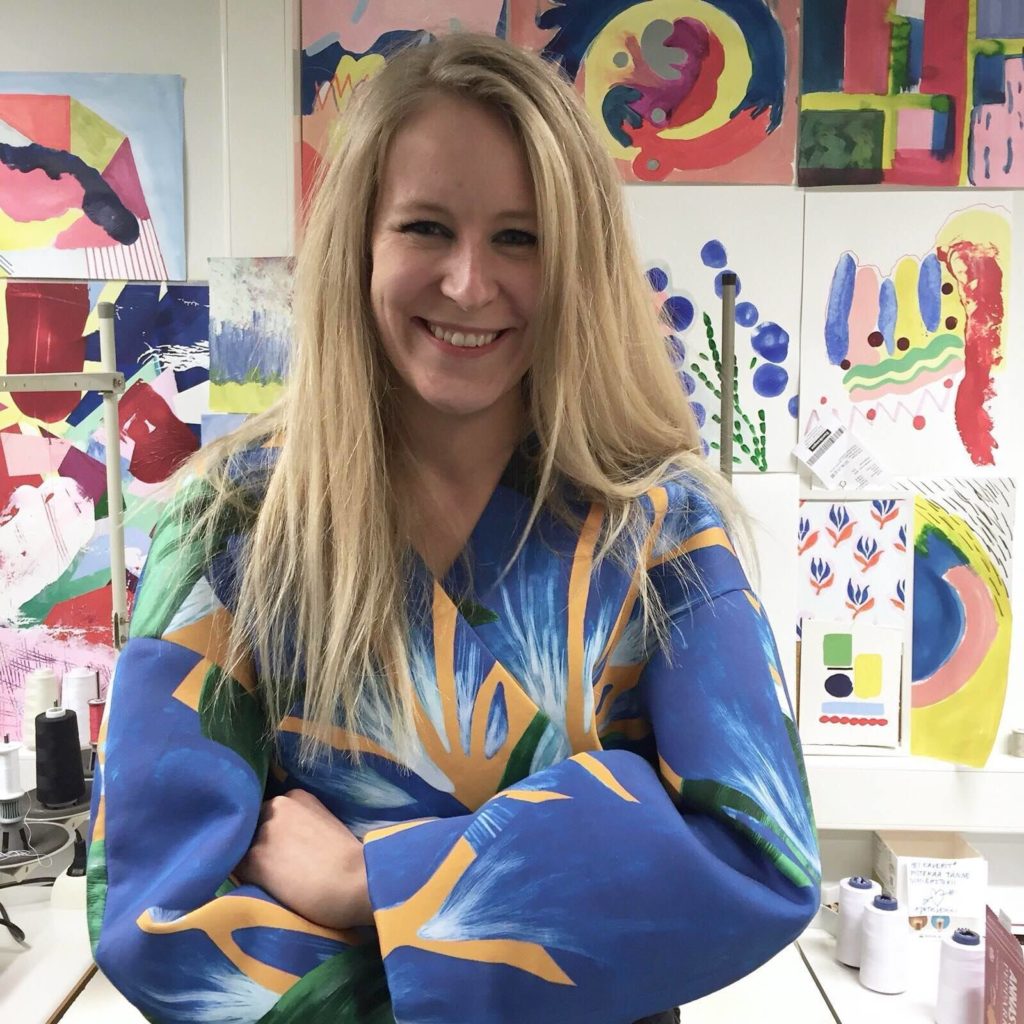 Laura Gröndahl
"I am a color-loving designer living and working in Barcelona. ​​I am a trained fashion designer currently working as a full-time freelance pattern designer. You may have spotted my pattern designs at H&M, Zara, Vimma Company and Nanso. I was graduated from Metropolia University of Applied Sciences in 2015. Recently, I've been concentrating on planning more commercial patterns and creating free art."
Additional information:
Ali Huttunen
Head of Rolling Stock
Tampere Tramway Ltd.
tel. +358 (0)40 866 3800
ali.huttunen (at) tampereenraitiotie.fi
Taina Myllyharju
Museum Director, Chairman of the jury
Tampere Art Museum
tel. +358 (0)40 801 6665
taina.myllyharju (at) tampere.fi
Text: Sari Mäkelä, Tampere Tramway Ltd.