Welcome aboard!
Tampere Tram runs every 7.5 minutes during the daytime, with an interval of 3–4 minutes in the city centre. At transfer stops, passengers can change to buses under a covered platform without thresholds or the need to cross the street.
Line 1 from Sorin aukio to Kauppi campus area includes 9 stops:
Sorin aukio, Koskipuisto, Rautatieasema, Tulli, Sammonaukio, Kalevan kirkko, Hippos, Tays and Kaupin kampus.
Line 3 from Santalahti to Hervantajärvi includes 22 stops:
Santalahti, Tikkutehdas, Särkänniemi, Pyynikintori, Tuulensuu, Keskustori, Koskipuisto, Rautatieasema, Tulli, Sammonaukio, Kaleva, Uintikeskus, Kalevanrinne, Hakametsä, Turtola, Hallila, Pohjois-Hervanta, Opiskelija, Hervantakeskus, Hervannan kampus, Etelä-Hervanta and Hervantajärvi.

Second stage to Lentävänniemi
Tampere Tramway is being built in two stages. The first stage was implemented in 2017–2021. In the first part, Tampere has received tram tracks and stops from Pyynikintori to Hervantajärvi and from the University Central Hospital to Sorin aukio square. In addition, a tram depot has been built in Hervanta. Traffic began in the first part on August 9, 2021.
Part 2 of Tampere Tramway includes the section from Pyynikintori to Lentävänniemi. Building of Part 2 is currently in progress. Traffic on Part 2A from Pyynikintori to Santalahti began on August 7th 2023 and traffic on part 2B from Santalahti to Lentävänniemi will start on January 7th 2025. Tampere City Council made a decision on implementation of part 2 in October 2020.
The tramway lines in parts 1 and 2 have a combined length of 24 kilometres.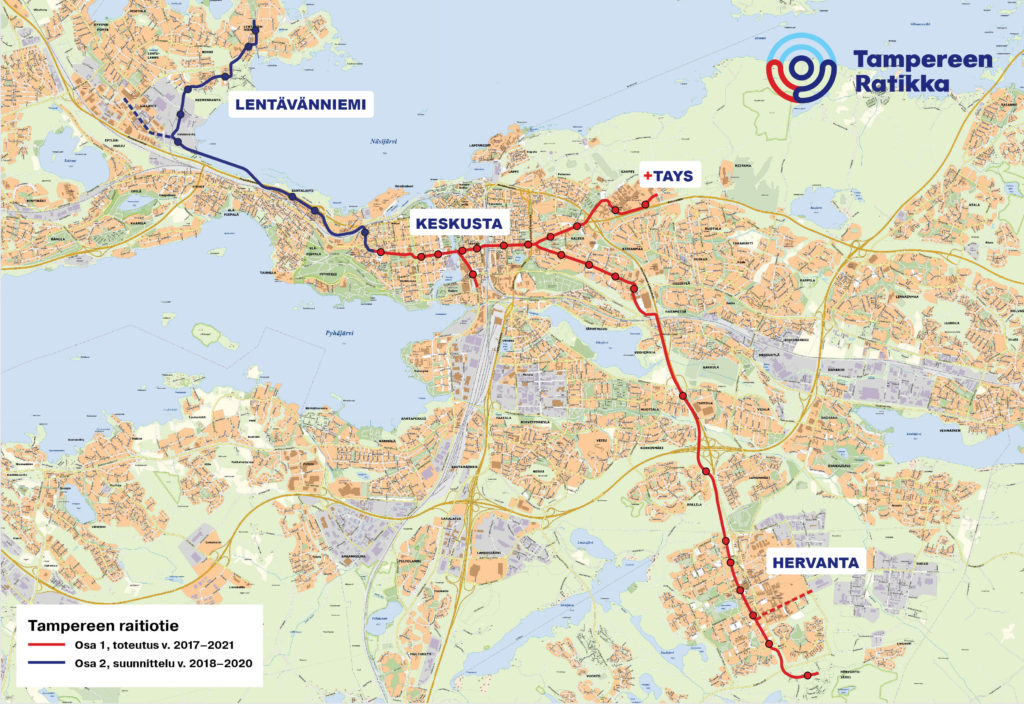 The construction of the Tampere Tramway
The construction work of the Tampere Tramway started in spring 2017. The Tramway Alliance is in charge of designing and constructing the tramway infrastructure and the depot area in stages 1 and 2.