Safely towards the Tramway era
Tampere has now moved to the Tramway Era! Tram is a completely new vehicle in Tampere's traffic. Now it's great time to review the traffic rules of the Tramway city!
On this page, you will find information about traffic safety in the Tramway city. You can also download traffic safety materials for your use.
Traffic rules of Tramway city
Smooth traffic means cooperation. Taking other people into consideration and observing rules leads to smooth traffic. The arrival of the Tramway is a good reason to improve cooperation; situational speed, using blinkers, and observing the rules at traffic lights and crosswalks are things that all of us have room for improvement.
The old traffic rules still apply, but the Tram will bring some new elements that people in Tampere didn't need to consider earlier.
Tram is a permanent part of Tampere traffic – this summer the city is served by a total of 19 trams.
Let's stay alert in the traffic together! 
Tram traffic lights
The tram traffic light is a triangular signal with two red lights at the top and one yellow light at the bottom.
The triangular tram traffic light works on a different principle than the traditional traffic light. When there is no tram in the vicinity, the tram traffic light is off and the traffic follows familiar rules.
Tram traffic lights are used to direct other traffic in order to ensure free passage for the tram.
The tram traffic light provides the tram with right of way also in a traffic circle.
Special attention is needed at intersections. Road traffic must anticipate when driving at an intersection that it will be able to cross
throughout the intersection during the green light.
Operating principle of tram traffic lights:
A signal that displays a rapidly flashing yellow light tells road users to be especially cautious.
When a solid yellow light goes on for 3-5 seconds, cars should stop if this can be done safely. The tram is approaching!
Two solid red lights go on, which means that cars must never enter an intersection because that's when the tram is coming.
After the tram has passed, the tram traffic light will flash yellow for a few seconds and then the lights will go off and traffic can continue according to the normal rules.
The tram at an uncontrolled intersection
The tram has right of way at an uncontrolled intersection, so drivers should get used to also looking to the left when arriving at an intersection.
Pedestrian crossings
At pedestrian crossings, pavement markings (a zebra crossing) run across the road and track. Usually, there are also traffic lights at a pedestrian crossing
The tram will yield to you at a pedestrian crossing
Remember to always look both ways to make sure it's safe to cross the track. The Tampere tram is a quiet mode of transport and it cannot stop suddenly.
In Hämeenkatu, there are light-guided pedestrian crossings at Rautatienkatu, Pellavatehtaankatu, Näsilinnankatu and Hämeenpuisto. Later there will also be a light-guided pedestrian crossing at Aleksis Kiven katu. All pedestrian crossings in Pirkankatu are light-guided.
In addition to pedestrian crossings, pedestrians have the option of crossing the street at designated crossovers.
Designated crossovers
At designated crossover there are no pavement markings running across the road and track
At designated crossovers, pedestrians must give way to trams, buses and other approaching vehicles
Attention is always necessary, as a heavy tram cannot suddenly stop and swerve around pedestrians
Check the markings (traffic signs and/or pavement markings) so you know when you are entering a pedestrian crossing!
Roundabouts
At roundabouts, motorists are guided by tram traffic lights. They give priority for the tram at the roundabout.
Tram traffic light control is needed at roundabouts because the tramway has a right of way and it would be difficult for motorists to spot the tram coming from behind, for example.
In situations where the tram is not coming, motorists should behave in the same way as at any roundabout.
Mixed traffic lanes
Cars and the tram will be using the same lane in Insinöörinkatu and Tekunkatu.
Buses, taxis and service traffic run on Hämeenkatu in the same lanes as the tram
• The speed limit on Hämeenkatu is 20 km/h
If there are parking places on the edge of the lane, be careful when you park to ensure that the tram can get by.
Public transport corridor
A public transport corridor is a place where only buses, trams and taxis can drive.
Driving for service purposes and driving into yards is only permitted when indicated by an additional panel.
Public transport corridors have transfer stop areas where passengers can transfer from a tram to bus and vice versa.
Special attention should be focused on Insinöörinkatu: there is a public transport corridor between Orivedenkatu and Opiskelijankatu and at the site of the Duo Shopping Centre. Taxis are permitted to drive to this public transport corridor – other traffic not
It's a good idea to get used to driving into the shopping centre parking hall and parking lot via Hervannan valtaväylä.
Driving into yards is permitted on the public transport corridor section between Ahvenispolku and Teekkarinkatu, but driving through Insinöörinkatu to Lindforsinkatu is forbidden.
Hämeenkatu is a walking-oriented public transportation street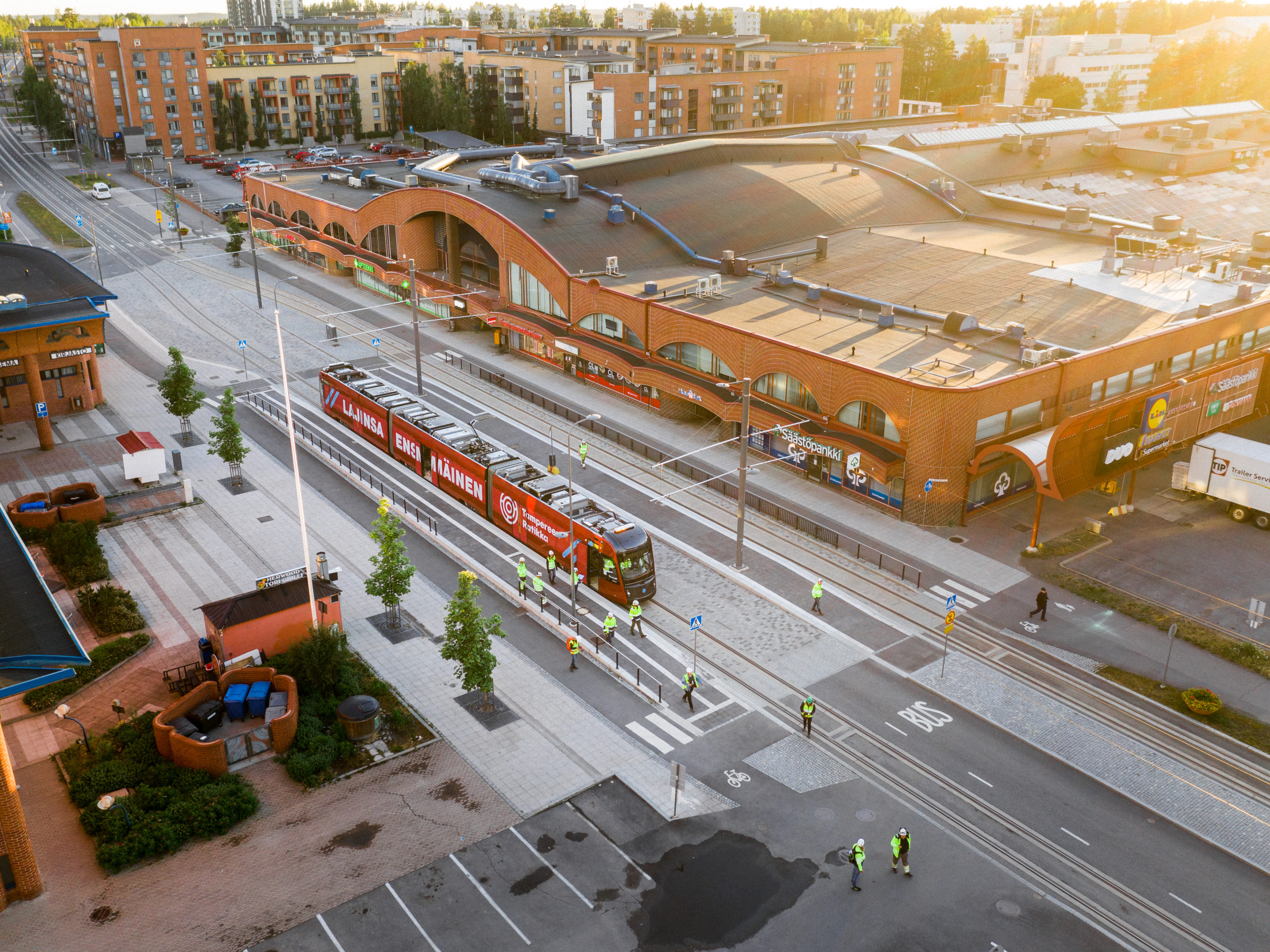 Tramway era began from Hervanta
The test runs of Tampere Tramway began from Hervanta. The test runs were carried out on the section of track between the tram depot and Turtola tram stop.
Before the arrival of the first Tampere Tram car in May 2020, a test tram car used in Germany was delivered to Tampere. The test tram car was used for testing the tramway and associated systems. The test tram car was seen for the first time outside the depot during the test runs on March 18, 2020.
Test runs with the first of its species Tampere Tram were commenced in the test run area during July 2020.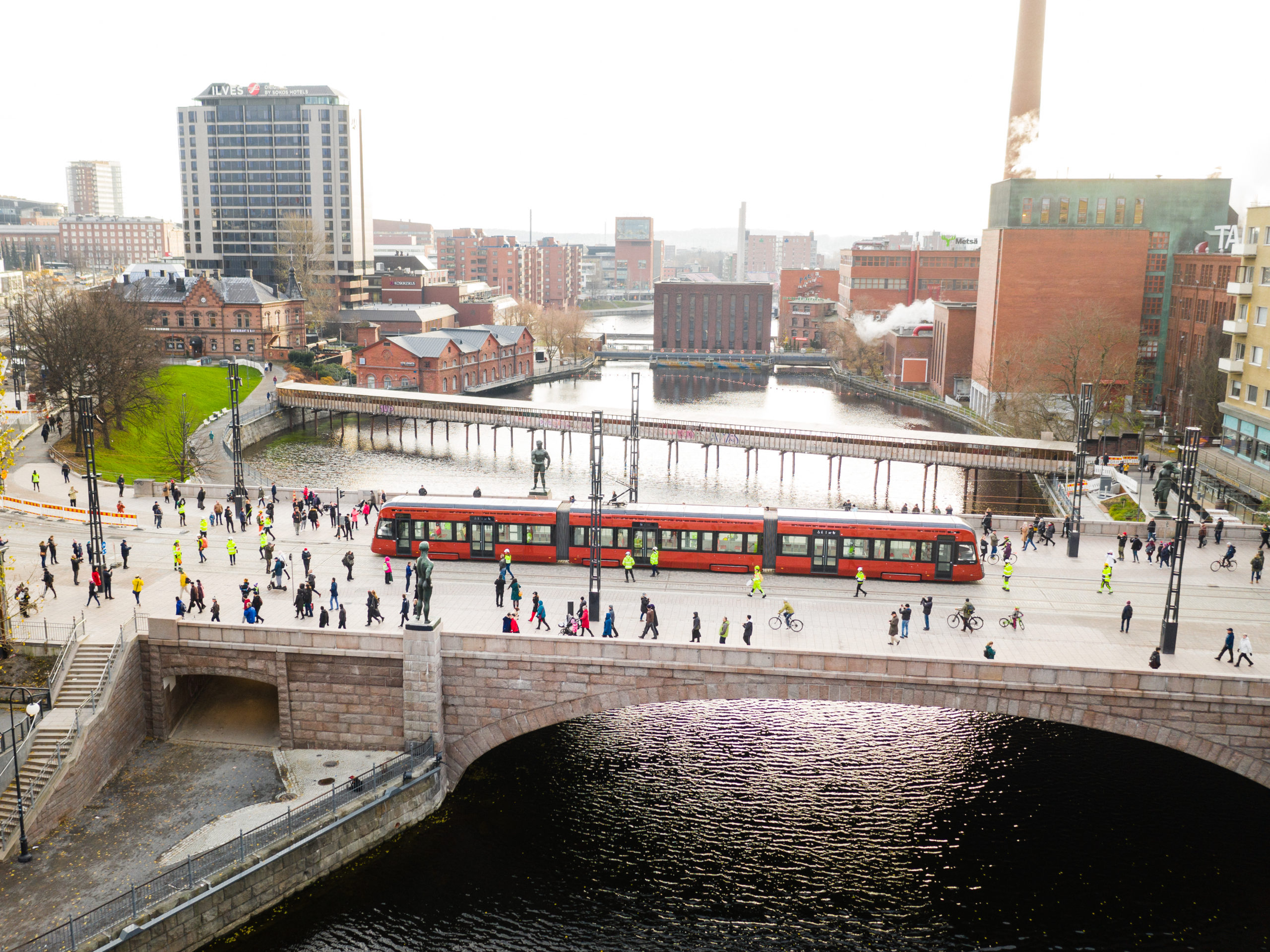 About Tampere Tram
The first Tampere Tram arrived to Tampere in May 23, 2020. The Tram was seen outside of the depot area in July, when tests runs were carried out in stages on the section of track between the depot area and Turtola.
In September 2020, the test drives expanded into the section between Turtola and Itsenäisyydenkatu and in November 2020 Tampere Tram was seen at Pyynikintori. In March 2021 the test drives will expand to Tays area and South-Hervanta.
You can try travelling by Tram in Tampere on May 10, 2021 and the Tramway traffic begins in Tampere officially on August 9, 2021.
Tram News
Tram News explain elementary school students about the news events of the Tramway city in an inspiring and understandable way.
The video has been made in collaboration with Wiwi Lönn School, Class 5B.
Watch the video in YouTube