Tampere Tramway Ltd.
A fully-owned subsidiary of the City of Tampere. Responsible for the construction of the tramway's infrastructure, the procurement of trams and other equipment, the organization of project financing and the operation of the tram system.
Contact
Note! Please give feedback on travel, routes and public transport to Nysse's customer service.
Nysse customer service, Frenckellinaukio 2 B
postal address: PO Box 487, 33101 Tampere
e-mail: joukkoliikenne@tampere.fi
phone: 03 5656 4700
Open:
Mon – Fri 9 a.m. to 4 p.m.
Telephone service open:
Mon – Fri 9 a.m. to 4 p.m.
Closed on public holidays and on Midsummer's Eve and Christmas Eve.
Tampere Tramway Ltd.
info@tampereenraitiotie.fi
tel. 044 7744 677
Emails are in the format firstname.lastname@tampereenraitiotie.fi
The operative management
Chief Executive Officer Pekka Sirviö
tel. +358 40 334 5798
pekka.sirvio@tampereenraitiotie.fi
Communications
Communications Manager Sari Mäkelä
tel. +358 40 800 4202
sari.makela (at) tampereenraitiotie.fi
Communications Specialist Henna Puisto
tel. +358 40 513 9397
henna.puisto (at) tampereenraitiotie.fi
Communications Specialist Kati Kriikku
tel. +358 (0)40 575 2210
kati.kriikku (at) tampereenraitiotie.fi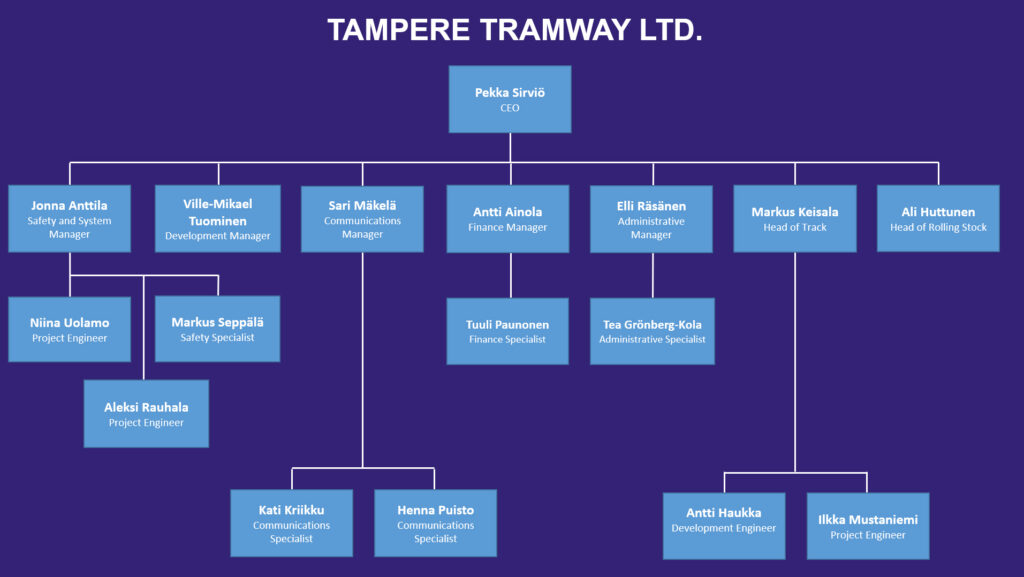 Visiting address
Kauhakorvenkatu 2
33720 Tampere
Tel. 044 774 4677
Weekdays from 08:00 to 16:00
info (at) tampereenraitiotie.fi
Office in the city centre
Hämeenkatu 14 C 17
33100 Tampere
tel. 044 774 4677
Weekdays from 08:00 to 16:00
info (at) tampereenraitiotie.fi
Board of Directors
Asko Koskinen (Chair of the Board)
Kirsi Koski
Kari Neilimo
Pekka Pohjoismäki
Kari Ruohonen
Elisa Saarinen
Jukka Terhonen
Tampere Tramway Ltd Annual Report 2020
Tampere Tramway Ltd Annual Report 2019