The first month of Tampere Tramway operation is visible as an increase in public transport passenger numbers – Make sure you understand the basics of daily tramway use
Tampere Tramway has been operating for one month. Passengers have been enthusiastic about the new form of public transport and interest in Tampere Tramway is visible as a 16 per cent increase in passenger numbers in comparison to one year ago. Including trial traffic last spring, Tramway journeys reached the milestone of one million trips on 7 September. In order to ensure that everything continues to run smoothly in the future, the tramway operators want to remind people of a few basics in relation to travelling on the tramway and moving around in a tramway city.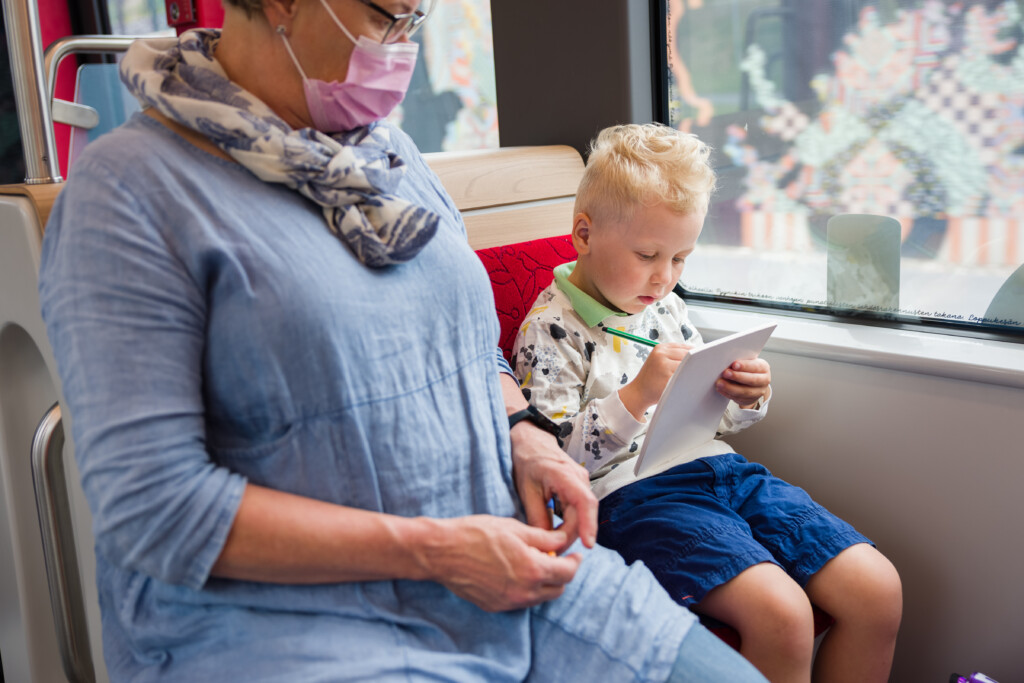 Tampere Tramway began operating exactly one month ago, on 9 August. Interest in the tramway has had a positive impact on public transport passenger numbers. According to Tampere Region Public Transport (Nysse), a total of 2.69 million journeys were made using Tampere's public transport during the tramway's first month of operation (9 August–7 September). In comparison, 2.31 million journeys were made in the same period one year ago. Approximately 530,000 passengers used the tramway in August.
– We've been following the development of public transport passenger numbers closely since the start of operation. A total of 16 per cent more journeys were made during the tramway's first month than in the same period last year. Development of the coronavirus situation has an impact on the numbers, but we can certainly say that people have found the new routes and the tramway, says Mika Periviita, Director of Public Transport at Nysse.
– At best, we've seen nearly 30,000 journeys per day on the tramway, which is an excellent number considering that it's the end of the summer and we're still dealing with coronavirus, adds Periviita.
In addition to passenger numbers, punctuality is an important indicator for Tampere Tramway. The tramway's reliability percentage was 99.75 during the past month. A total of 11,458 runs were made during the August operating period, and just 30 of those had to be cancelled.
– We promised Tampere residents a punctual public transport system and we want to keep that promise. It's great that the beginning has gone according to our plans. We're constantly developing the system, and this was a good start, states Pekka Sirviö, CEO of Tampere Tramway Ltd.
– Tampere Tramway transports passengers to Tampere's diverse services and to pick mushrooms in the forest. We're very pleased that passengers have been so active in terms of giving us feedback and sharing their experiences about travelling, for example, on social media. Our accessible tramway seems to attract passengers of all ages. In particular, people have been pleased with the tramway's appearance, smooth ride, ease of travel, and the opportunity to take bicycles or pets along.
Improvements and adjustments
Tampere has started using a completely new tramway system and new cars. Although operation has begun and continued as planned, there is always room for improvement when implementing a new system. Based on the feedback received, some improvements and adjustments have been made to the system, its operation, and communications during the tramway's first month of operation.
– For example, we've made improvements aimed at reducing curve squeal and turnout sounds. A tramway is a nearly soundless form of transport, but curve squeal is one of its characteristics. It's very important to us that both passengers and residents who live along the tramline are satisfied, and that's why we've been listening to and talking with residents about these issues. We can't affect everything, but we have found workable solutions that have already improved and will continue to improve these areas, explains Sirviö.
The right of ways at the Sammonaukio traffic lights have caused a lot of discussion among city residents, and we've focused attention on using communication methods to improve passenger safety.
– The City of Tampere has adjusted the Sammonaukio traffic lights and, starting next week, the tramway timetables and departures will be changed so that cars move through the intersection in a more coordinated manner. This will reduce the amount of time car traffic has to wait at traffic lights, explains Vesa Rauhala, who is the VR's operative manager for Tampere Tramway.
In addition to passengers who use the tramway for their daily journeys, the new form of public transport has attracted people who want to see and experience the tramway. Learning how to use the new system may be confusing for some and can even cause dangerous situations if people focus on things other than, for example, remembering to hold onto something when the car is moving.
– Passengers are interested in the new and spacious tram cars. While admiring the new car and enjoying the smooth tram ride, people may not remember that the car sways a bit when, for example, it starts moving and stops. Sudden stops are also possible. Unfortunately, there have been situations in which a passenger has fallen down. That's why it's important for everyone to ensure their own safety as soon as they step onto the car by holding on to a bar or strap. This also applies when confirming a ticket, continues Rauhala.
Inside the cars, videos shown on info screens and announcements remind passengers of the importance of holding on to something. The info screens show a lot of useful passenger information, and it's a good idea to pay attention to these messages.
The tramway era has begun – Remember these things
A lot of significant changes have taken place in the Tampere traffic environment, and the start of the tramway era means that people travelling in the city have new things to remember and pay attention to. Tampere Tramway hopes that all tramway passengers and people moving around in Tampere will keep a few basics in mind to ensure a smooth tramway experience.
1. Always confirm your right to travel on a ticket device
Passengers always have to confirm their right to travel on a ticket device. The following Nysse ticket products are accepted on the tramway: Tickets loaded on a Nysse travel card, mobile tickets purchased from Nysse Mobiili, QR single tickets purchased in advance, and contactless payment. Showing your ticket on a ticket device ensures that you receive the discounts that apply to your age group. There are City of Tampere inspectors riding in Nysse traffic, who have the right to impose an inspection fee of 80 euros for people travelling without a ticket.
Every tram module has two ticket devices. During rush hour situations in particular, the first people entering the car should move farther from the door to confirm their right to travel so that everyone can easily enter the car.
2. Hold on
Always hold onto a bar or strap when you're standing in a tram car. Make sure that you hold onto something when paying or moving around in a tram car. The tram ride is smooth but, as in all forms of transport, you should always prepare for swaying and sudden braking situations. This helps ensure that you remain standing.
3. Be sure to ask if you're concerned about travelling on the tramway
Nysse customer service will help with all questions related to travelling on the tramway. Some of the tram cars carry tramway drivers in the passenger space. They function as tram car supervisors and you can ask them anything about the tramway.
4. You can press the Nysse button to open the door
The tramway automatically stops at every tram stop and the driver usually opens the doors. During quiet periods or when necessary due to weather conditions, the driver will not automatically open the door. In such cases, passengers can open the door themselves by pressing the Nysse button.
5. Use the SOS button if needed
All trams have an SOS button for emergency situations. If a serious disturbance occurs in the car, use the SOS button to contact the driver. The driver will call for help if necessary.
6. Do not loiter on the tracks – always cross the tramline with caution
The new and tidy track areas are beautiful to look at, but they are only meant for tram cars. Loitering in the track area is prohibited, and it is also subject to a fine. This is a matter of safety for you and the people travelling on the tramway. Remember that a tram car's large mass means that it can't stop suddenly and the contact line carries a dangerous high voltage. Furthermore, you may not hear a tram coming, so always be careful when crossing the tracks.
7. Learn how tram traffic lights operate – Do not drive into an intersection when the tram traffic light is on
Triangular tram traffic lights operate differently than normal traffic lights. The tram light is dark when a tram is not close and traffic follows the familiar rules. When the tram traffic light shows a rapidly blinking yellow light, you must be particularly cautious when crossing the tracks. Stop your vehicle when your see a steady yellow light for 3–5 seconds. This means the tram is already very close. When the tram light shows two red lights, you may not drive into the intersection under any circumstances, because the tram is driving through it at that time. After the tram has passed, the tram traffic light blinks yellow for a few seconds. Start driving only after the light has gone off. Traffic continues according to the familiar rules.
Read the Tampere Tramway traffic safety material at www.tampereenratikka.fi/trafficsafety
8. Always let a tram pass freely
Remember that the tram must be allowed to pass as freely as possible.
Never pass a tram in a mixed traffic lane – not even when it has stopped at a tram stop.
If you park beside the tramway, check to ensure that the exterior part of your vehicle is at least one metre away from the nearest track edge so that tram cars can pass as smoothly as possible. If you park on a curve, leave at least two metres of space.
Further information:
Mika Periviita
Director of Public Transport
Nysse – Tampere Region Public Transport
Tel. +358 (0)50 326 7007
mika.periviita@tampere.fi
Pekka Sirviö
CEO
Tampere Tramway Ltd
Tel. +358 (0)40 334 5798
pekka.sirvio@tampereenraitiotie.fi
Read also: