A unique urban mobility environment for Tampere – the Lyyli tram car has an important role as a test platform
The internationally unique "Lyyli Living Lab" environment is being built for the Tampere Tramway system. It will allow various parties to cooperate on the experiment-driven development of urban mobility solutions in a real operating environment.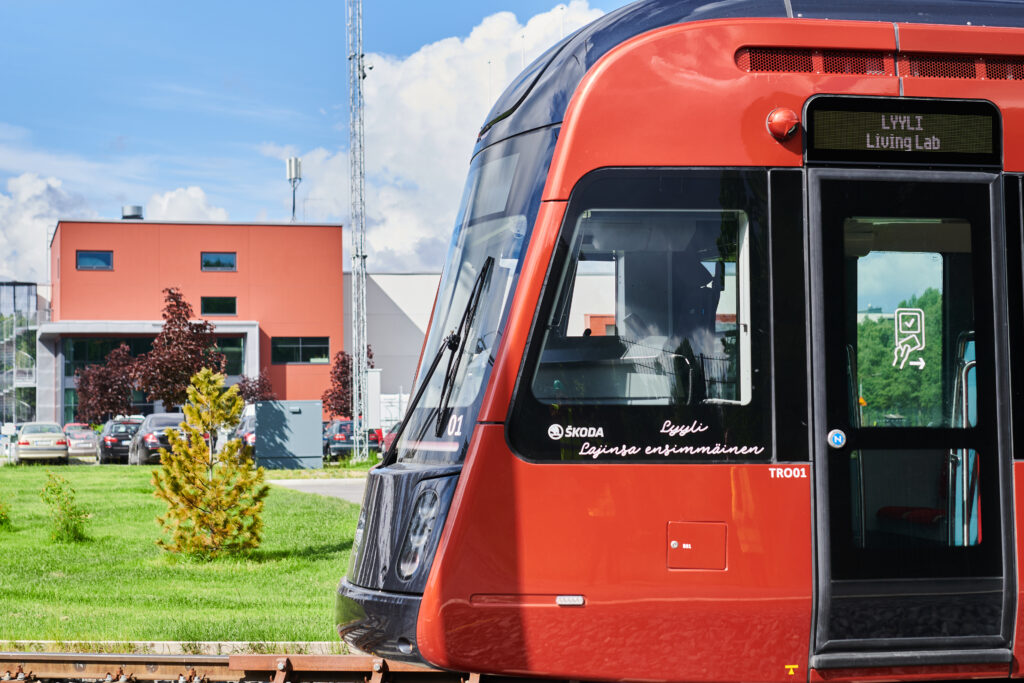 The purpose of the "Lyyli Living Lab" project is to create a development, experiment, testing and marketing environment and the related services. This will make it possible to develop urban mobility solutions and obtain references in a real operating environment: the Tampere Tramway system, the Tramway Mock-up, and the very first Lyyli tram car.
Tampere Tramway Ltd is the host organisation for the project, which is scheduled to last for 4–6 years.
– One of the key goals of the project is to offer passengers new services and innovations to improve the travel experience and in addition to perform technology trials in a test car that operates in normal traffic. We're excited to be able to use our Lyyli tram car in such a unique project – the first of its kind once again, says Ali Huttunen, Head of Rolling Stock at Tampere Tramway Ltd.
"Lyyli Living Lab" has been operating since the beginning of 2022 in small-scale trials, and the first larger trial began at the end of April. Construction of the project environment is already in progress, with Technical Research Centre of Finland (VTT) taking responsibility for the technology and digital tools.
– We expect this globally unique co-development environment to meet the needs of companies, the city, its residents and research organisations, attract wide-ranging international interest, and create a concrete platform for various forms of cooperation, states Olli Pihlajamaa, Senior Scientist at VTT.
The project is being implemented in cooperation with the City of Tampere, Business Tampere, Skoda, and the University of Tampere. The first example of experiment-driven development is an environmental observation system developed by Skoda Group and GIM Robotics, which will reduce the life cycle costs of a tram car and improve traffic safety.
– The test platform has been very beneficial for us, because it provides an easy way to test the first prototypes in real traffic. This significantly speeds up development and testing work, explain Tommi Tikkanen from GIM Robotics and Kai Hermonen from Skoda Group.
"Lyyli Living Lab" supports the City of Tampere's goal of building a sustainable and smart Tampere region in which housing, living and travel are carbon neutral and services function digitally, smoothly and in a user-oriented manner.
– During recent years, the City of Tampere has invested strongly in smart city development, ecosystems and open development platforms. Co-development plays a very important role in creating new innovations and ensuring the region's vitality. An attractive city offers its residents quality services, a pleasant environment and a smooth everyday life with convenient transport. This project will accelerate and ensure the achievement of these goals, explains Markku Niemi, Director of the Smart City programme at Business Tampere.
The project already has nearly 20 committed partners at this time. All interested Finnish and international actors can participate in the project by sending an application to Tampere Tramway Ltd and approving the annual membership fee corresponding to their selected commitment period. More information about the project is available at www.tamperetestbed.fi/lyyli
More information:
Ali Huttunen
Head of Track
Tampere Tramway Ltd.
tel. +358 40 866 3800
ali.huttunen@tampereenraitiotie.fi
Olli Pihlajamaa
Senior Scientist
VTT
tel. +358 40 506 9153
olli.pihlajamaa@vtt.fi
Read also: