Tampere Tramway is one year old – nearly 10 million tram journeys were made during the year
Tampere Tramway has been operating for exactly one year. Passengers have embraced this new mode of public transport. During its first year, nearly 10 million journeys were made by tram and customer satisfaction is at an excellent level.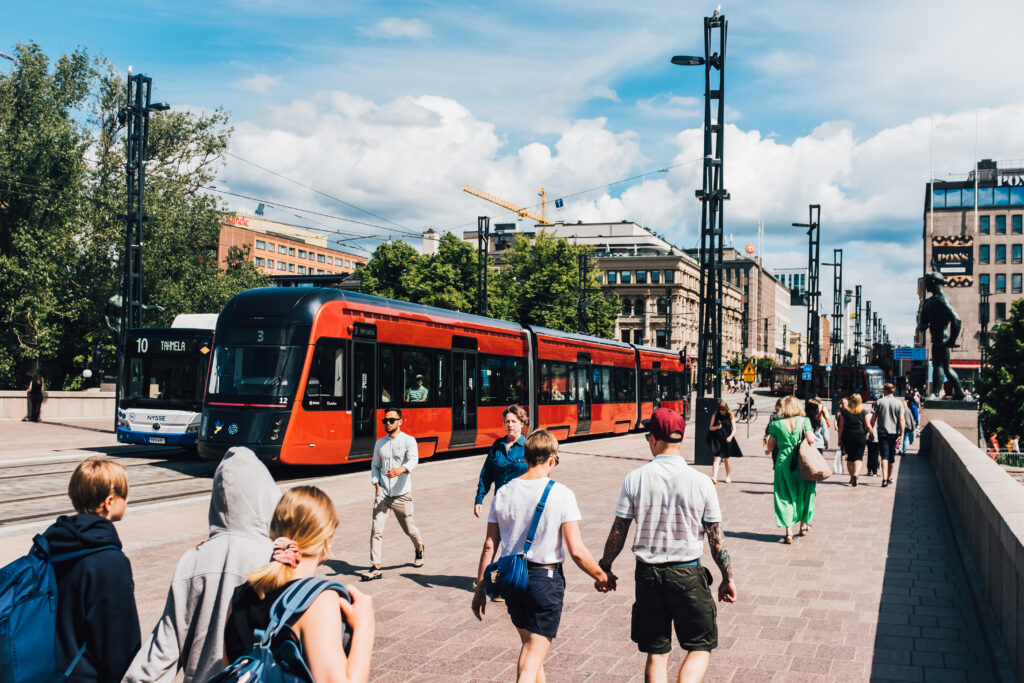 – Approximately one quarter of Nysse journeys are made by tram. The 10 million journeys made during the first year are quite consistent with our expectations. As part of last year's successful line reform, the tramway helped us return to the pre-coronavirus level of travel faster than other urban regions – and summer 2022 already exceeded it clearly, says a delighted Mika Periviita, Director of Public Transport at Nysse.
The one-year-old tramway has established its position in the daily life of Tampere residents and people are satisfied with the new public transport service. In addition to passenger numbers, reliability and customer satisfaction are important indicators for Tampere Tramway. The tramway's reliability percentage was 99.12 during the past 12 months. The tramway's average customer satisfaction is an excellent 4.1 out of 5. A customer satisfaction questionnaire asks passengers for their opinion about tram car and tram stop cleanliness, travel safety, the driver's style of driving, and compliance with timetables. The questionnaire is carried out monthly on both lines.
– We monitor customer satisfaction continuously in all Nysse traffic. The tramway connector lines to Kauppi campus and line 1 (Tampere University Hospital-Sorin aukio) have the most satisfied public transport passengers, continues Periviita.
– It's been great to see how Tampere residents have embraced the tramway and use it so much. Traffic has also been successful in terms of indicators, because customer satisfaction and reliability have consistently remained at a very high level, states Pekka Sirviö, CEO of Tampere Tramway Ltd.
A total of 175,182 runs were made during the year since traffic started, and 1,537 runs were cancelled. Around 95% of the latter were partially cancelled runs, which means that it was possible to operate part of the route. The tram cars have accumulated more than 1.4 million driving kilometres in total. The cars have proven to be reliable and adjustment of the tramway system has functioned well in all conditions.
– Tampere's tramway era is progressing according to our expectations. The employees in our tramway family are dedicated to their work and ensure that the tramway is reliable, comfortable and easy to use. We want to thank all the passengers and other road users who have embraced tramway travel and adopted the traffic rules of a tramway city. Traffic always involves cooperation, and we're doing very well in that area, says Sirviö in summary.
– The first year has gone really well. Eighty tram drivers and traffic controllers have qualified for a new profession and proven to be skilled professionals in terms of keeping trams on the move, sums up Vesa Rauhala, Operative Manager at VR.
Tramway maintenance is also an essential part of smooth traffic. The first year has been very educational for Tampere Tramway's Maintenance Alliance.
– Cooperation with traffic operations has been fruitful, because we've been able to develop new work methods when traffic is running and during traffic interruptions. Tram car drivers actively inform our traffic controllers about observations made on the track. This allows us to prioritise work in order to improve traffic flow and safety. Traffic controllers have a direct line of communication with our technicians, which means that we can often prevent fault situations before they interfere with traffic, says Maintenance Manager Santeri Heinonkoski from NRC.
More information:
Mika Periviita
Director of Public Transport
Nysse – Tampere Region Public Transport
Tel. +358 (0)50 326 7007
mika.periviita@tampere.fi
Pekka Sirviö
CEO
Tampere Tramway Ltd
Tel. +358 (0)40 334 5798
pekka.sirvio@tampereenraitiotie.fi
Read also:
New survey: Tampere Tramway is extremely popular – over 80% of Tampere residents have a positive attitude towards the tramway