Open trial traffic on Tampere Tramway starts on Monday – No advance reservation required in the future
Open trial traffic on Tampere Tramway starts on Monday – No advance reservation required in the future
Tampere Tramway's trial traffic with passengers began on Monday 10 May. Due to the coronavirus situation, only a limited number of passengers were accepted during the first two weeks. All passengers had to make an advance reservation. Starting on Monday 24 May, passengers with a ticket can get on the tramway at all tram line 3 stops without an advance reservation. Operating hours will expand at the same time: trial traffic will be available on weekdays from 12 noon to 8 pm.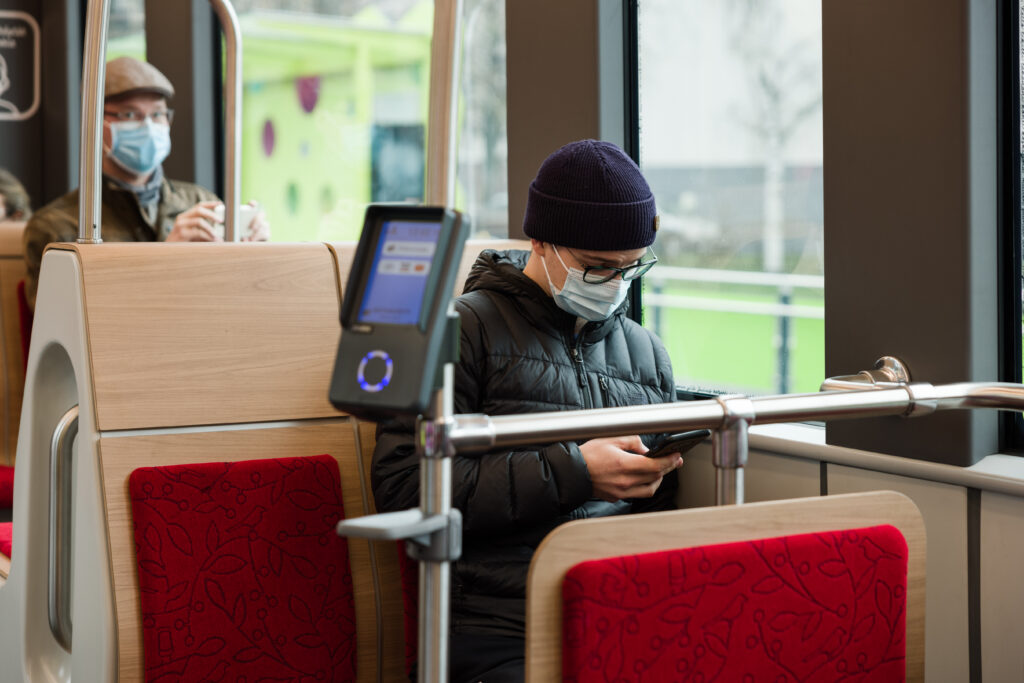 There was excitement in the air when trial traffic on Tampere Tramway began on 10 May. The first runs were fully booked in advance. Nearly 900 trips were made on the first day, and more than 2,600 people travelled on the tramway during the first week. By Thursday 20 May, approximately 6,200 trips had been reserved, which is 73% of total capacity.
Starting on Monday 24 May, trial traffic will be available on weekdays between 12 noon and 8 pm. Passengers can get on the tram at all stops between Pyynikintori and Hervantajärvi.
– We knew that people were really interested in trying the tramway for the first time. We comply with the valid coronavirus guidelines for public transport, and we believe that requiring advance reservation was a good solution for dealing with the initial enthusiasm. Now we're making trial traffic available without advance reservation. As a coronavirus measure, we're simultaneously extending the operating hours so that we can offer more service in the evenings. The service frequency in trial traffic is 15 minutes, so passengers won't have to wait long for the next tram if the car looks full, explains Mika Periviita, who is Director of Public Transport at Nysse (Tampere Region Public Transport).
Starting on 24 May, the first trial traffic car will depart from Hervantajärvi at 12:15 and from Pyynikintori at 1 pm. The last run of the day leaves Hervantajärvi at 6 pm and Pyynikintori at 6:45 pm. Detailed timetables for trial traffic are available in the Nysse route guide.
Tampere Tramway is part of the Nysse product family, so passengers can use a Nysse travel card or buy a ticket with the Nysse mobile application when they want to take a tram. Contactless payment is also accepted on Tampere Tramway. The tram travels in zones A and B, so passengers need a two-zone ticket.
You can identify a trial traffic tram by its route plate, which displays the line code 3. Some trams are still being used for teaching purposes, and they are not available for passenger use. Teaching and other test runs are mainly performed in the mornings before trial traffic begins. Starting on 7 June, the number of trial traffic runs will further increase when line 3 begins operating at 7 am in the morning. During the summer, Tampere Tramway will provide service from Monday to Friday, with four departures per hour from morning until early evening.
Tampere Region Public Transport follows the valid coronavirus guidelines very closely. The tram cars have all been treated with a nano-coating, which destroys viruses in a few minutes. The cars are also equipped with hand sanitiser dispensers, and passengers receive information during the journey via announcements, instructional videos and signs. The cars are well ventilated, but ventilation is further enhanced because all the doors are opened at every stop. The cars also undergo deep cleaning every day.
– We want to remind people that no-one should use public transport if they have any symptoms of illness. Furthermore, passengers should comply with the mask requirement as well as recommendations concerning good hand hygiene, safety distances and the correct technique when coughing or sneezing. Let's take care of each other so that everyone can have a safe travel experience, notes Periviita.
Trial traffic puts the finishing touches on the tramway experience
Tampere Tramway's trial traffic will continue until regular traffic begins on 9 August. Trial traffic is an important phase in terms of tramway commissioning, because it involves fine-tuning the service experience and testing traffic plans. The tramway will accept paying customers during this period, but it won't operate according to the final timetables and the changes made to bus routes will not be in use yet. Drivers and traffic controllers will gain valuable experience about driving with passengers according to a timetable.
Trial traffic also represents a turning point for passengers, because they can learn about travelling on the tramway and provide input on the service experience. Feedback can be submitted via the Nysse feedback channels. During trial traffic, the Tampere Tramway Traffic Alliance will also collect information about the travel experience via observation.
Some of the tram cars operating in trial traffic will carry tramway drivers in the passenger space. They will function as tram car supervisors and assist people in travel-related situations if necessary.
– Despite the coronavirus, our project is progressing well towards the big moment when regular traffic begins on 9 August. Being able to accept passengers is an extremely important step for us. We hope that people will have an open mind towards trying this new mode of transport and continue to give us feedback. During trial traffic, we encourage passengers to approach the tram car supervisors with any questions that might come up, says Pekka Sirviö, CEO of Tampere Tramway Ltd.
Further information:
Mika Periviita
Director of Public Transport
Nysse – Tampere Region Public Transport
Tel. +358 (0)50 326 7007
mika.periviita@tampere.fi
Pekka Sirviö
CEO ​​​​​​ Tampere Tramway Ltd
Tel. +358 (0)40 334 5798
pekka.sirvio@tampereenraitiotie.fi
Read also:
Tampere Tramway test runs expand to the Tampere University Hospital area and Etelä-Hervanta end stop