Red and black: Tram colours are reflected in Tampere Tramway's workwear
Red and black: Tram colours are reflected in Tampere Tramway's workwear
Tampere Tramway's brand-new work clothing will soon be visible around the city when VR's personnel participate in test runs. The line of workwear for traffic controllers and drivers includes outdoor and indoor clothing and a more formal option for special occasions. The colour world is similar to that of the tramway: red and black are the main colours with white as an accent. The line is based on VR's workwear and was implemented in cooperation with Tampere-based clothing manufacturer Image Wear Oy.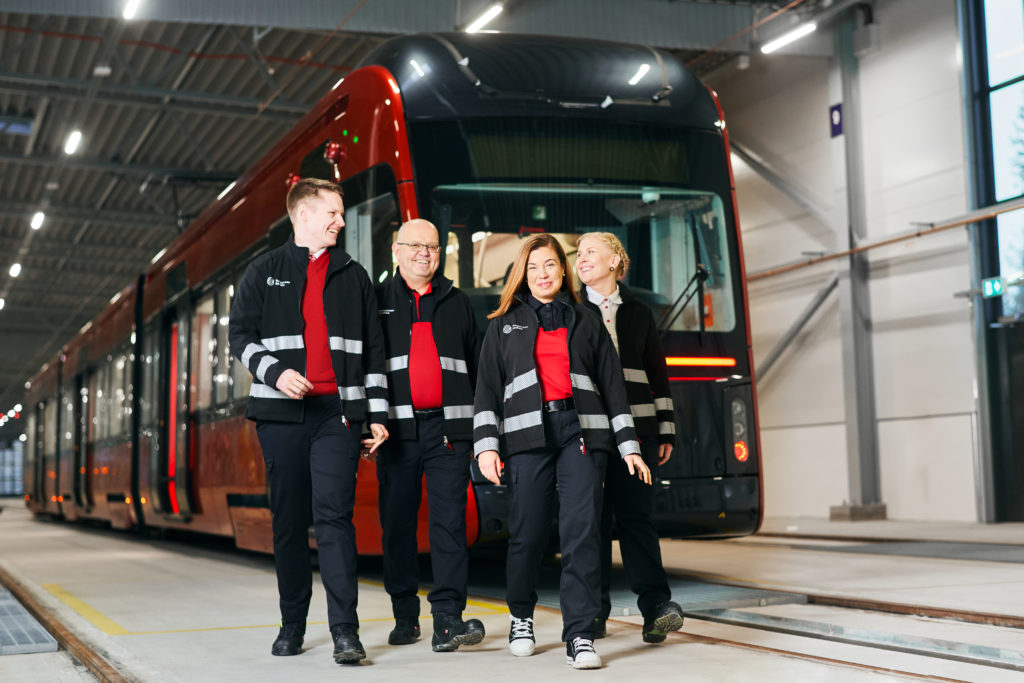 Comfort, good fit, practicality and durability are emphasised in the tramway's brand-new workwear, which has a modern and relaxed look. The line is based on workwear designed for VR's train personnel and updated a few years ago. When implementing that renewal, the personnel was included in the design process by means of questionnaires, surveys and trial use. User feedback about the workwear was also collected later and used as the basis for adjustments designed to make the items more functional. The feedback from the user survey and proposals for improvement have been directly taken into account in the workwear line for tramway employees.
– We have recent experience of renewing a line of workwear and we applied that knowledge directly to the clothing developed for Tampere Tramway. This also saved time. Tramway work has a lot in common with working on a train and the environments are similar, so we already had an understanding of things like clothing properties and functionality. Some of the items are exactly the same as those used on trains, such as the black trousers. And of course the tramway colours – red and black – play a big role in Tampere Tramway's workwear, says Operative Manager Vesa Rauhala, who is the person responsible for Tampere Tramway at VR.
The line was designed and implemented in cooperation with Tampere-based workwear supplier Image Wear Oy.
For daily use and special occasions
The tramway's basic set of work clothing includes black cargo-style trousers, a long-sleeved and a short-sleeved red and black polo shirt, a belt, safety shoes and a zip-up black indoor jacket with reflective stripes and a logo. When work tasks involve moving around outdoors, the outfit includes a yellow reflective coat that meets the regulations for safety and high visibility. The line also includes a more formal option, in which the polo shirt is replaced by a white collared shirt and a red pullover.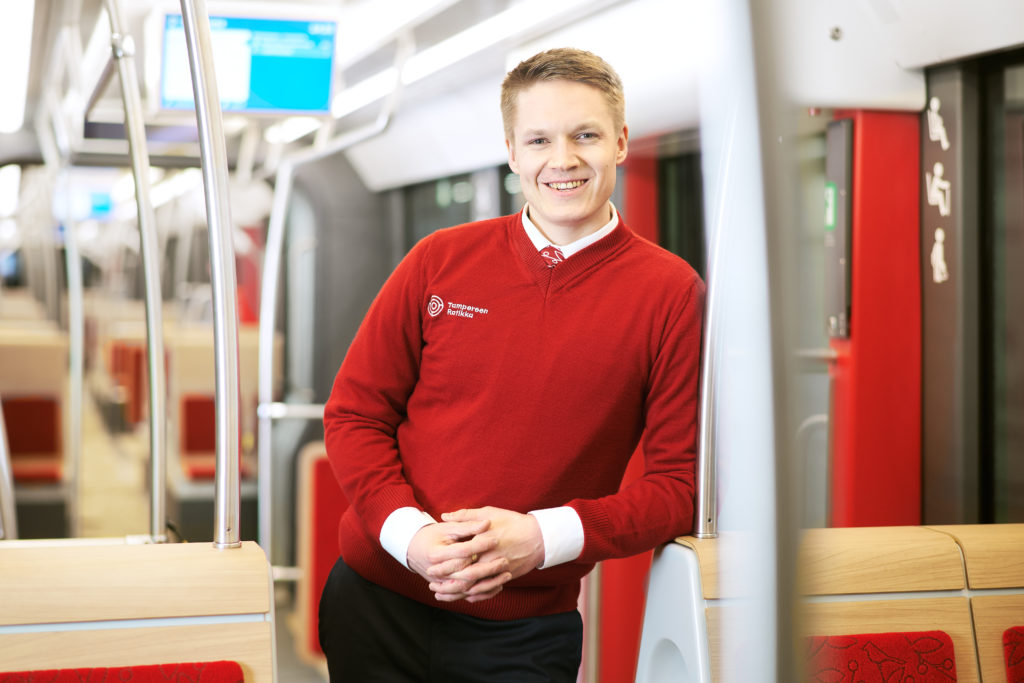 The line also includes a variety of accessories: a belt, baseball cap, woollen cap, gloves and a scarf. The outfit for men includes a tie in a pattern also used in the tram cars. The same pattern is found on the fabric covering the tram car seats, and it was designed by Tampere Tramway's fabric designer Laura Gröndahl.
Tram drivers will also be wearing the new clothing line. The process of selecting approximately 65 tram drivers is in its final stages, and the first training course will begin in January.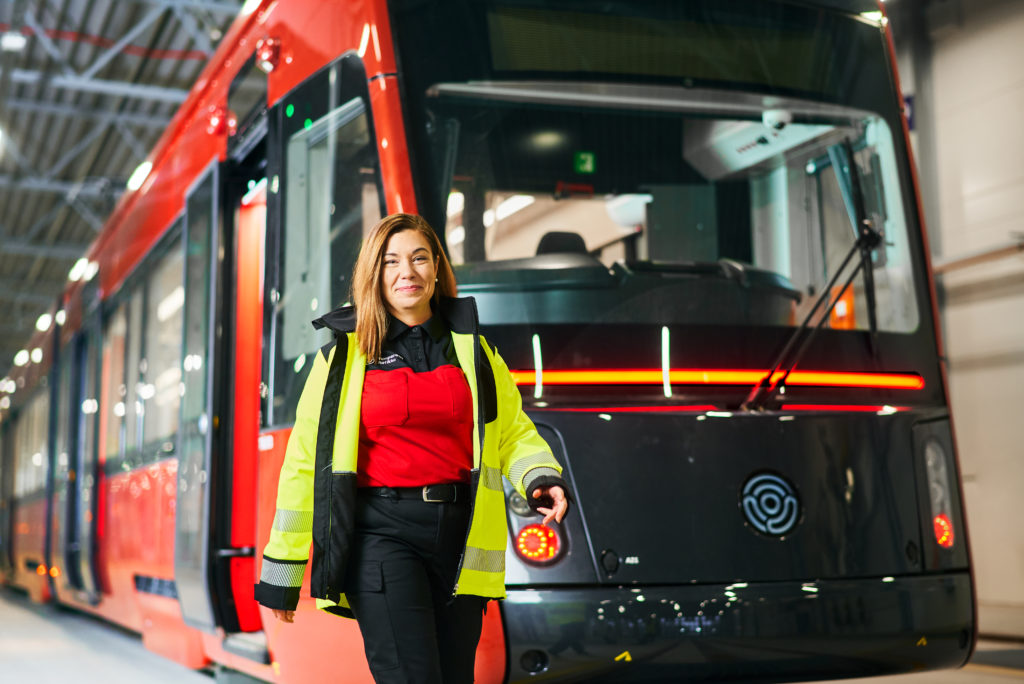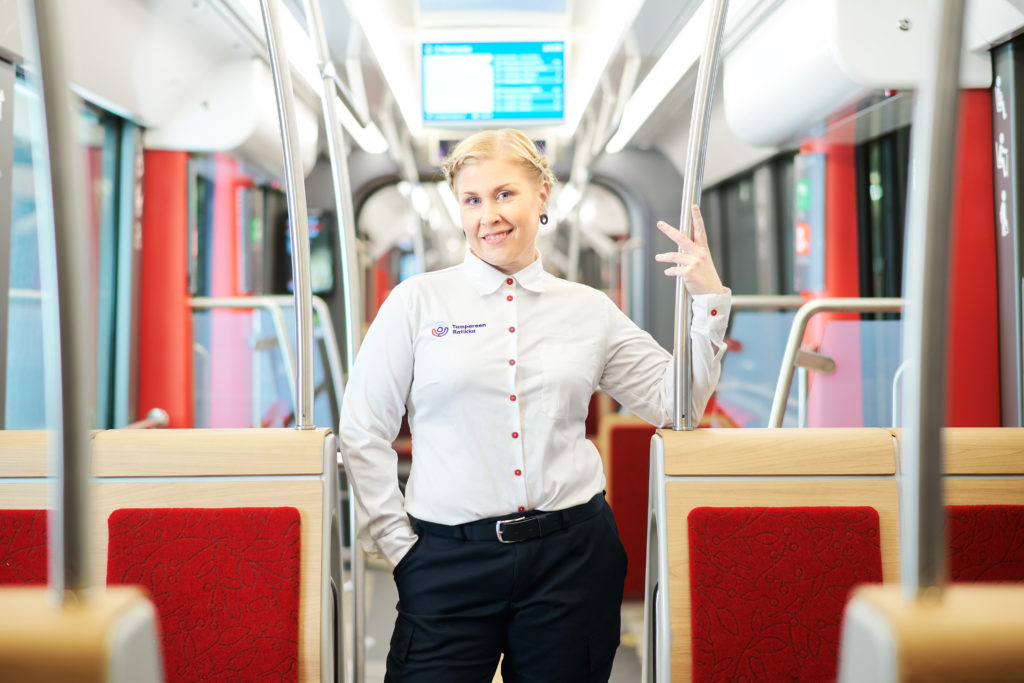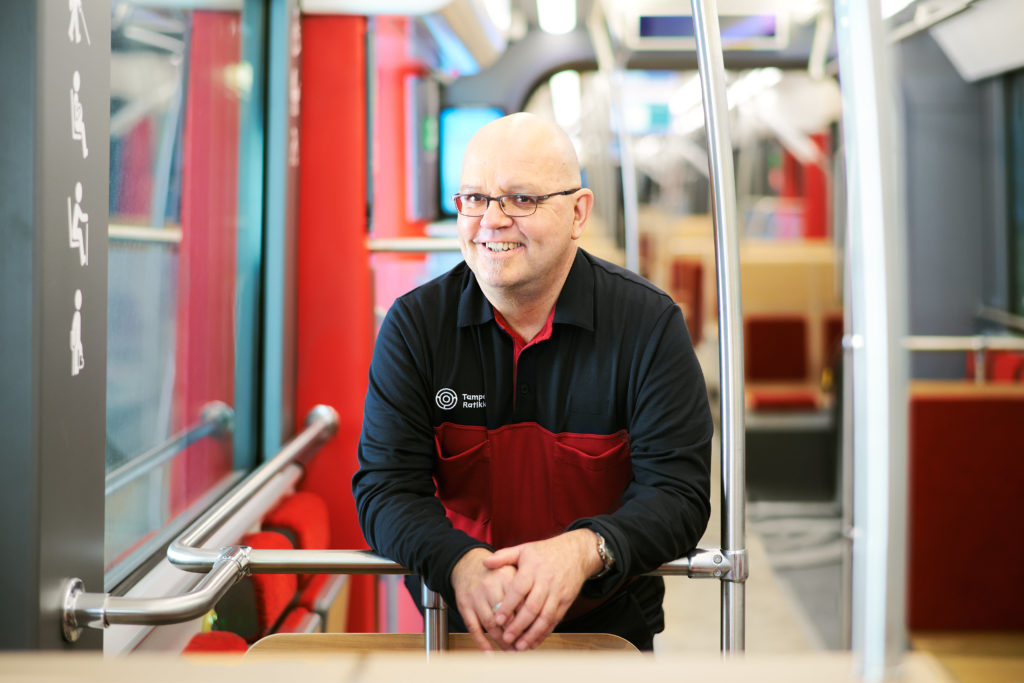 TAMPERE TRAMWAY'S TRAFFIC ALLIANCE is responsible for Tampere Tramway operations as a whole. The Traffic Alliance consists of Tampere Region Public Transport (Nysse), Tampere Tramway Ltd and VR.
Nysse is responsible for organising public transport services in Tampere region. The tramway will become part of the Nysse public transport family and it will utilise Nysse's ticket products and prices. Once tramway traffic begins, the routes and timetables will be available online at nysse.fi.
Tampere Tramway Ltd serves as the service integrator in Tampere Tramway's Traffic Alliance, combining public transport services, the operator and customers. As the client, the company is responsible for infrastructure construction, procuring equipment, arranging financing, developing the Tramway brand, and keeping the tramway system functional when traffic starts in 2021.
VR is responsible for the smooth operation of Tampere Tramway, including tramway traffic and traffic control. The traffic controllers and tram car drivers are VR employees, and VR is responsible for their recruitment and training, which is being implemented in cooperation with Tampere Vocational College Tredu.
Read also: