Traffic wardens from Tampere Tramway and the Parents' Association ensure road safety on streets near the Finnish International School of Tampere during the first week of school
Tampere Tramway began operating on Sepänkatu on 7 August. When school starts on Wednesday 9 August, traffic wardens from Tampere Tramway and the FISTA Parents' Association will ensure road safety on the streets near the school in Amuri. The traffic wardens will be on site in the mornings and afternoons on 9–11 August.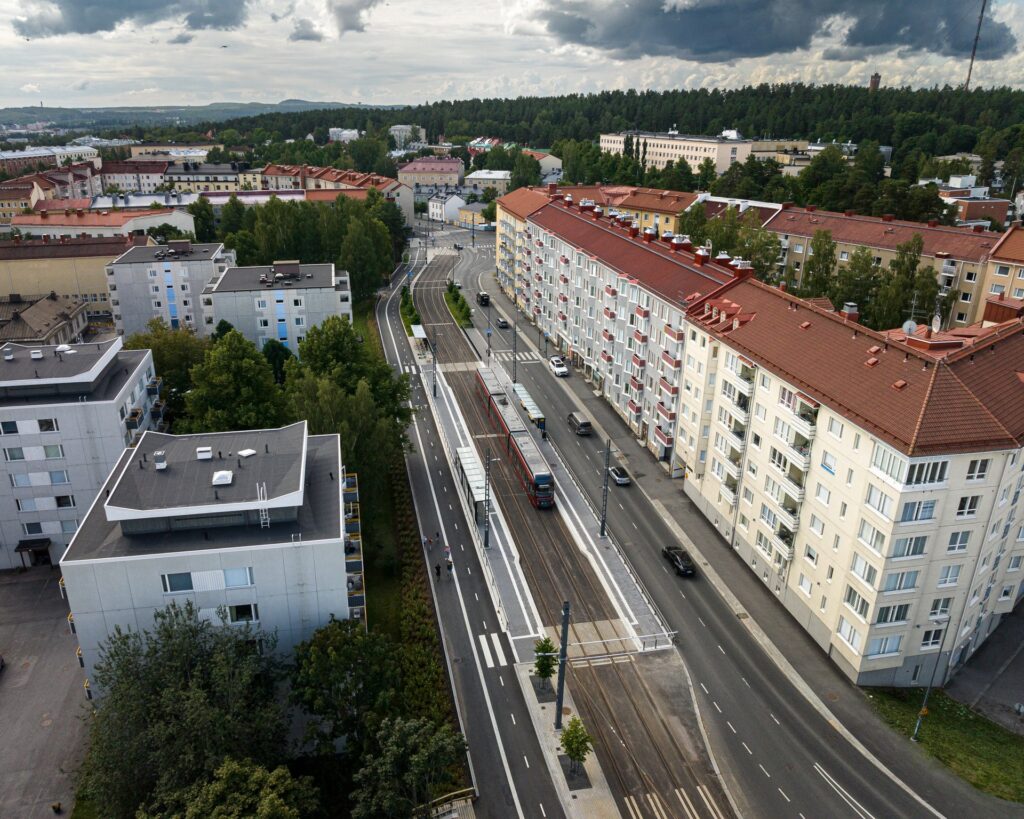 The traffic wardens from Tampere Tramway will provide guidance on traffic safety matters and advise people about using the tramway on Sepänkatu. Pupils will also attend a morning assembly on the topic on Thursday.
– It's important for us to ensure that our pupils know how to get to school safely. The Finnish International School of Tampere (FISTA) is a regional school, so our pupils come from a large area and may have a long journey to school. In previous years, the Parents' Association has provided guidance on streets near the school at the beginning of the school year. Now that tramway traffic has started beside our school, we are very pleased to also receive help from Tampere Tramway, says Ulla Hiltunen, Principal of FISTA.
Make sure you understand the traffic rules for a tramway city
Tampere Tramway would like to remind all people moving around the city that traffic safety is a matter of cooperation.
– Every road user needs to make sure that they understand the traffic rules and keep their speed appropriate for the situation. Being in a hurry and defending your own rights do not promote safe movement in the city. As the school year begins, it's particularly important for people to be aware of their surroundings. We also hope that pedestrians will cross streets with care and observe other traffic at pedestrian crossings and designated crossovers, encourages Traffic Manager Antti Haukka, Head of Operations at Tampere Tramway Ltd.
Tampere Tramway has been cooperating with Tampere schools in different ways to promote traffic safety ever since construction of the tramway began. Last spring, the tramway launched a traffic safety campaign for Tampere schools and this is continuing in the autumn. The Tampere Tramway website has material designed for different target groups: https://www.tampereenratikka.fi/tampereen-ratikka/liikenneturvallisuus/
Important tramway tips for schoolchildren:
Cross the tramline safely using a pedestrian crossing or designated crossover.
Never cut across in front of or behind a tram that has stopped.
Always be careful when crossing the track, look in both directions and do not rush across the track.
A tram car cannot avoid you because it runs on rails.
A tram car is quiet, so you may not hear it coming.
Remember that the track is not a place to hang out or play.
Further information:
Antti Haukka
Head of Operations
Tampere Tramway Ltd.
Tel. +358 40 180 7096
antti.haukka@tampereenraitiotie.fi
Ulla Hiltunen
Principal
Finnish International School of Tampere (FISTA)
Tel. +358 40 196 8513
ulla.hiltunen@tampere.fi
Traffic guidance:

Olli Vakkala
Project Manager
Ekokumppanit Ltd
Tel. +358 40 728 5677
olli.vakkala@tampere.fi